adwords

InternetNextStep MLM Software Manual for all INS MLM Software users
Package Selection Feature
---
For a further guide about Product Maint please click here.
If you would like to give your users the ability to choose the Products they want to build up a package you can setup a Package Selection product.
Here is how to configure an Item in our Shopping Cart to do exactly this.
Once configured, the member will select either from our Showcase View, OR just regular adding from the cart, the particular package item you have specified.
During the Signup or Order process (it works for both) they will be asked to add the set number of items to their package, for example if you said it is a package of 10 items, they will need to select a total of 10 items FROM the list of available items you configured. It could be 3 of one, 3 of another and 4 of another, 10 of 1, etc. Total 10 items if you set it to need 10. You can set it to need any number you wish.
---
Adding Packaged Product Identifier
Go to Product Maint and click "Edit" beside the Product name.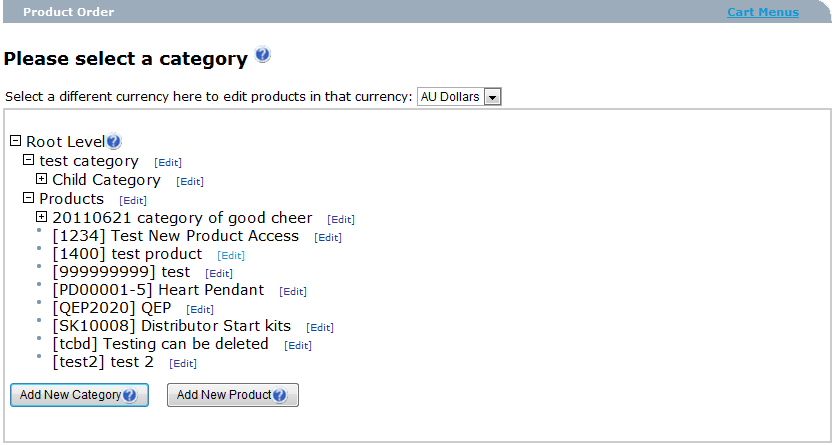 Press the Add New button in the area marked Product Details

From the Drop down list select Packaged Product Identifier

Add 1 for the value (but could be any integer number it is like a ID for this package)

Press Save Product Details button

---
Adding Packaged Product Quantity
Press Add New button again

This time select Packaged Product Quantity from the drop down box. Enter the number of products that must be selected in the value field (for purposes of this example - enter 4)

Press Save Product Details button

You have now created a Packaged Product with an ID of 1, which requires 4 optional products to be selected before Checkout can be completed. The total price of the Packaged Product is contained in this product. When optional products are selected - their value will be Zero ($0) - because they are a part of the package.
You now have to identify which products are a part of the Package. This is achieved by editing the products that can be optionally selected and addding a Package Identifier to them
---
Package ID - Optional Product
In the same area of the Product Maintenance, press the 'Add New' button under Product Details for the product to be included in the package.
This time select Package Id - Optional Product from the drop down list and for the Value field enter the PackageID you created previously (in this example - you have to enter 1 - as this is the Package ID).

Press the Save Product Details button

Should you wish to have more than one package containing a particular item, separate all the 'Packaged Product Identifier' that you wish the item to show up in in the 'Package Id - Optional Product' area with commas like 11, 22, 33, 44, 55.
Repeat this exercise for all products you want to be optional for the packaged product.
After this is complete, whenever a user selects the Packaged Product in their shopping cart, an additional step will be introduced to the shopping cart to select the 'Optional Products'.
---
Back to Shopping Cart
Back to Admin Manual
---
Created by System Administrator. Last Modification: Thursday 04 of June, 2015 04:15:22 PDT by System Administrator.
Advanced Search Help
+ : A leading plus sign indicates that this word must be present in every object returned.
- : A leading minus sign indicates that this word must not be present in any row returned.
By default (when neither plus nor minus is specified) the word is optional, but the object that contain it will be rated higher.
< > : These two operators are used to change a word's contribution to the relevance value that is assigned to a row.
( ) : Parentheses are used to group words into subexpressions.
~ : A leading tilde acts as a negation operator, causing the word's contribution to the object relevance to be negative. It's useful for marking noise words. An object that contains such a word will be rated lower than others, but will not be excluded altogether, as it would be with the - operator.
* : An asterisk is the truncation operator. Unlike the other operators, it should be appended to the word, not prepended.
" : The phrase, that is enclosed in double quotes ", matches only objects that contain this phrase literally, as it was typed.
---
Sidebar
Display type unknown, you have to enter the banner type