Go to Configuration > Website Setup > CSS Editor from the left hand menu or click on CSS Editor under Configuration on the home page.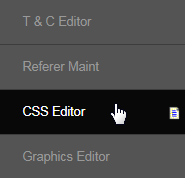 There are two areas where you can affect the CSS of your website. One is for the Prospect area and another for Admin/Member area. These two areas are self explanatory one is for the main website for all new users and what they see. Another is for the Admin and Members Lounge.
You can edit the Cascading Style Sheet used throughout your system. This determines many features such as Table colors, Font size and colors, Link text sizes and colors and may control images and background. First off, you need to select the proper Referer type from the drop-list and the boxes below will reload automatically.

Enter the CSS content in the editor and then click on the Submit button below to save and apply the changes. The stylesheet is also available for download to be modified on an external editor. Once you have edited the stylesheet paste the contents in below and update the system.
Note: Please do not delete the content already present. If you are unsure what is controlled by the CSS Editor, contact INS Support.



With the use of Graphics Editor, CSS Editor and WebEditor, you can revamp your look and feel within our standard size constraints at any time.
---